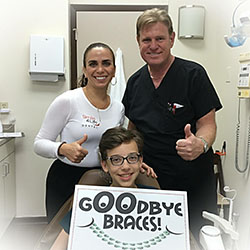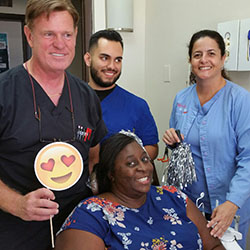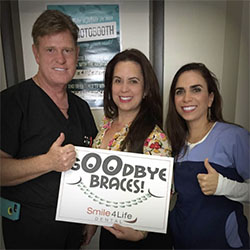 "My dentist told my mother that I needed to visit Dr. Fox, an orthodontist. Dr. Fox said I had a crossbite. To everyone's surprise, my crossbite was almost gone after 28 days. I am glad I followed the rules of brushing my teeth and followed Dr. Fox's No-No list of what I could and could not eat with braces."
— Jason E. (age 9) (Early Orthodontic Treatment)
"The first day of the orthodontic thing, I was really scared. When I met Dr. Fox, I thought he was so nice! It is really easy to stop sucking your thumb with Dr. Fox's home therapy. Always listen to your orthodontist!"
— Landis E. (age 9) (Early Orthodontic Treatment)
"I had a huge overbite. My top teeth completely covered my bottom teeth. Well, I went to Dr. Fox, I had retainers and braces, but now my overbite is almost gone! I feel great!"
— Kristen H. (age 10) (Early Orthodontic Treatment)
"I used to have a big gap between my teeth when I was very little. I felt kind of weird when I had the gap between my teeth because I looked weird. But, after retainers and all, I got braces. Now, my teeth are back together and I have a TERRIFIC smile!"
— Lauren K. (age 9) (Early Orthodontic Treatment)
"Before I got braces, I thought it was going to be horrible. It turned out it didn't hurt and it wasn't as bad as I thought it would be, and now I have a great new smile. Thanks, Dr. Fox and friends!"
— Charlie H. (Teen Braces)
"I started with a tooth that wouldn't come down. Dr. Fox and his staff have helped me with my teeth. I liked the neon retainer and I love having braces. My tooth is almost down. I enjoyed every visit I have had. Your staff is great. Thank you for all your help!"
— Ashley B. (Teen Braces)
"I had my braces on for a little more than two years. The worst part about it was trying to keep my teeth clean. The best part was when I got them off. Dr. Fox was great. He likes to joke around a lot but after a while he grows on you! Thanks to Dr. Fox and his staff, I have a great smile!"
— Christ S. (Teen Braces)
"My teeth feel great and real straight. I liked how it made my teeth straight from before where my teeth weren't straight. Dr. Fox and company helped me have straight teeth for the rest of my life. Thanks. I will tell others that need braces to come here so they will have straight teeth, too!"
— Andrew D. (Teen Braces)
"My teeth used to look like dominos that had fallen over. Dr. Fox and his employees did a great job. The braces aren't as cheap or expensive as others, but he has the newest technology and does as he would say an 'awesome' job. I love winning Fox bucks and winning prizes, and going to parties to get free stuff. In other words, Dr. Fox did a great job nobody else could ever dream of doing."
— Brenton S. (Teen Braces)
"My teeth were so crooked. This process was a little painful, but worth it. Now, I have beautiful, straight teeth and I love them. Thank you so much, Dr. Fox and staff! I love you."
— Sara K. (Teen Braces)
"I really had no idea how great this experience would be. When I got my braces off, I actually cried!!! I never knew braces could make such a big difference.
"Thank you so much, Dr. Fox — you are, 'the best' — #1 always in my book.
"Thank you and the rest of the crew, you are all wonderful."
— Pat, (Adult Braces)
"I always thought that I was too old to have a beautiful smile. Dr. Fox showed me that nothing was impossible. A great thank you to your whole team."
— Marie, (Adult Braces)
"For 40 years, I was not happy with my teeth. I had crossed, crooked front four teeth. I came to Dr. Fox and was thrilled with the idea of braces and only having to wear them six to eight months. Time went fast, nothing was painful, and I am very glad I did it. I only wish I hadn't waited so many years.
"Thank you for my new straight smile!"
— Brenda, (Adult Braces)
"At age 35 I decided to seek treatment for the spaces between my front teeth. For many years I was very sensitive to smiling with 'less than perfect' alignment of my teeth. Dr. Fox's dedication to perfection and his professionalism throughout the process were instrumental to perfecting my smile and enhancing my confidence in only six months! I can't believe I waited this long. Nevertheless, I am excited about a future full of wide smiles!"
— Chris, (Adult Braces)
"I just wanted to thank Dr. Fox for fixing my teeth. I was always afraid to smile all through middle school and high school because I was so self-conscious of my teeth. Now I never have to worry about that again."
— Christopher, (Adult Braces)
* The reviews on this page are from actual patients of Fox Braces & Invisalign. Individual results may vary. Reviews are not claimed to represent results for everyone.